Hostel Facilities
The school provides separate residential facilities for boys and girls students. They are managed and run by caring and efficient matron / warden – in - charge. Hostels are well furnished and have all the facilities that help the children live and grow in an environment that they can identify as their home. Trained staff members, along with a whole range of support staff, are entrusted with well being of the children and to ensure that their needs are fully met. The school places much emphasis on the importance of students taking responsibility for themselves, and for each other, within a carefully supervised framework. For our boarders, the hostel is also home and as such provides every facility for study, leisure and a flourishing sense of community, which can add so much to school days and later life.

The school offers separate boarding facility to both boys and girls who come from as far as from Bhutan, Bangladesh and different states of eastern India, who in turn contribute in their own way to the life of the school. There is ample scope of academic excellence, sports and cultural activities. An urge for learning is not only essential but also indispensable for gaining knowledge as well as career development, and our institution is creating just that.
The sense of security and loyalty engendered by the hostel life finds expression in many ways. This is reflected in creating a healthy desire to excel in competition with the other houses, on the sports field, in the field of arts and in academic attainment. Friendships and mutual support play a large part in school life and in personal life. This is reflected in the boarding accommodation we provide. The school authority strongly believes that the values of caring, sharing and community living must be inculcated in our students from the very beginning. We just guide them professionally to achieve the same. The girls are under the guidance of a senior matron, who looks after them and their various needs 24x7.
Please Note - Students will not leave the hostel without prior permission. Unauthorized absence from the hostel will be dealt with severely and may result in suspension and expulsion.
Diet
School meals are carefully supervised by an experienced chef and staff members and efforts are made to provide a well balanced diet with a variety of vegetarian and non - vegetarian meals. Day's foods are prepared keeping a view on the nutritional value and other necessary factors.
Health
The school has a trained residential nurse and a visiting doctor to look after the medical needs of the students. In addition the school also organizes regular health check ups and maintains detailed records of the medical history of each student. Appropriate medical care is provided as and when required. The school doctor visits once a week and is on call for any emergency.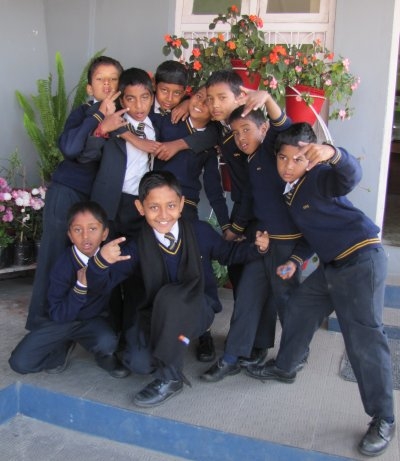 Parents are advised to get the eye, dental, skin and haemoglobin tests done prior to the start of every term. These reports are then submitted to the school. Boys using spectacles are to keep two pairs with them. Each and every aspect relating to health is meticulously entered in the medical record book assigned to every child. These include allergies, blood group, emergency numbers/emails, vaccination dates, etc
The school handles the routine outbreaks of conjunctivitis and viral fevers which are not uncommon in any boarding school. The doctor also keeps sending advisories regarding health matters to all concerned departments on outbreaks of communicable diseases in the school as well as in other boarding schools.
At the time of joining, all the parents are to execute an indemnity bond authorizing the school to look after their children in all matters relating to health. Medicines brought by students from home are kept with the resident nurse in the hospital and will be taken by the students under supervision of the Doctor.
Authorities reserve the right to refer a student to any specialist for treatment or operation when need arises. Parents will be consulted before any action is taken.
Vital doses of jokes, pranks, camaraderie and bonding help overcome the bout of flu or conjunctivitis perhaps as much as the medication. For the escapist, who conveniently falls ill during test, arrangements are made to conduct the test in the hospital if the doctor deems it fit!
Hostels Rules
Boarders who return late after the holidays should inform the Principal either by FAX / Telegram or in writing before the school resumes its classes, otherwise their names will be struck off the rolls / fine will be imposed / or disciplinary action will be initiated depending upon the gravity of the matter.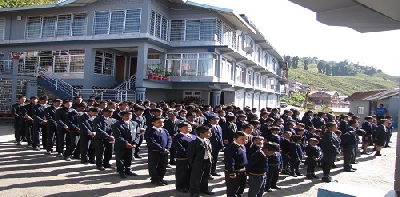 The children will be allowed to resume their classes only after all their dues are settled in full.
Visiting out of bound areas results in suspension, any similar or other disciplinary action. Any cash / valuables which boarders may bring along with them must be deposited with hostel warden / matron for safe custody. Use or Possession of lighters, cigarette holders, pipes, tobacco, alcoholic drinks, drugs or any objectionable material is strictly prohibited. Defaulters will be removed from the hostel without any hearing. Misconduct will be dealt with appropriately / strictly. Visitors / Parents / Guardians including school friends are not permitted to enter the dormitory. Residents who forge parents / local guardian's signature will be expelled from the hostel will face strict disciplinary action which might result in expulsion also. Local guardians are permitted to take out the residents on out – pass during holidays with prior permission of the Principal. Residents who are permitted Out - Pass / Night pass should be back in the hostel latest by 5.00 PM. Violation of time schedule will lead to cancellation of all future outing. More than three violation of this rule may force the authorities to expel the resident. Under compelling circumstances, a resident can be granted leave of absence not exceeding 10 days. Some of the unwritten codes are given below
Students must remain in hostel in proper uniform at all times. They are not to loiter in towel or sleeping suits.
Students will use the recreation room etc. only at specific timings.
Students will take their meals / tea etc. in the dinning hall and during specified timings only.
Students will meet their guests in the lounge on the ground floor and normally between 5:30 to 7:30p.m.
Fees, hostel dues etc. as notified are payable in advance. Notice to parents will be sent.
Application for exemption from any activity on medical grounds must be supported by M.O.'s Certificate. Medical officer can be consulted in dispensary on all days.
Security
Girls House - While guards patrol the outer periphery of the Girls hostel, night aya remain inside each dormitory during night hours not only to attend to the requirement of pupils but also to ensure safety, security and discipline of the hostel.
Boys House - For safety, security and discipline a security guard and watchmen are present inside the hostel compound. Sufficient guards remain vigilant outside the Boys hostel throughout the day and night.
Movement of Pupils - No student moves out of the campus without an adult escort and guard.